Last Duel

(From the book "Heroes & Villains")

By : Deborah Susan Jones : Editor


This Artwork was one of many created for the UK Advertising Agency Camel Advertising, based in Sheffield, who brokered creative input for several upwardly mobile Computer Games companies at the time, among them U.S. Gold, who this image was created for.

A simple "shoot-em-up" image for a software game and typical of much of the creative computer game packaging design output of the Artist in the late 80's.


Rendered in oil and acrylic on wood panel, a long-held basic technique of the Artist, these works were often carried out to very tight deadlines which saw the Artist frequently working 19 hour days with sleep a definite luxury, 3am deadlines being a frequent event, such was the overheated and exploding trajectory of the Software Games market that demanded these images from him at that time.

Peter was fortunate that at that time his Wimbledon-based studio was literally around the corner from a very helpful woodyard and "old Jim" who worked there took a special interest out of curiosity as to what the wood panels that Peter frequently ordered, were for.


Old Jim would say "what was yer after" whenever Peter went around to request a panel be cut to a specific size for the particular requirements of a given project, and the woodyard and "old Jim" became key inputs to the London Studio's material requirements, at least as much as a more obvious central London graphics or Fine Art supplies shop!

Deborah Susan
J
ones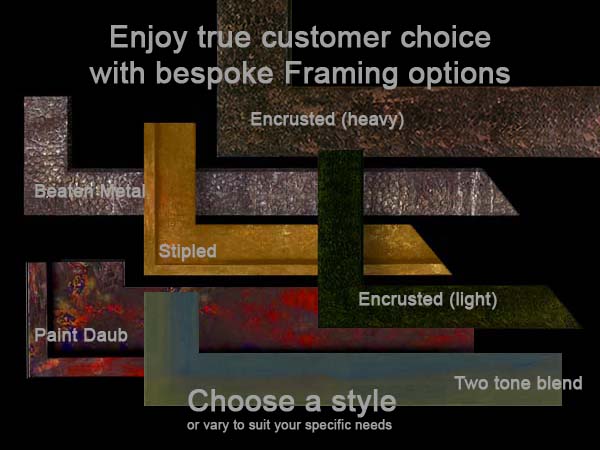 When you buy a LUXURY edition (right) they come in bespoke utterly unique artist frames. Alternatively, you can choose a personal bespoke style of frame from the range above or discuss your own special idea with us. Just e-mail the studio to discuss your specific needs - you can learn more about
"Artist" Frames here