Slaughter Mountain Run
(Highway Warrior 3)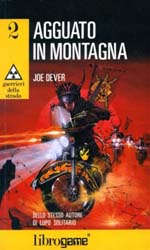 (From the book "Heroes & VIllains 2")


By : Deborah Susan Jones : Editor & Contributing writer




Agguato In Montagna - Guerrieri Della Strada - Librogame.

It sounds more interesting in Italian, doesn't it? Slaughter Mountain Run / Highway Warrior 3, used as the cover of another of Joe Dever's role play games books and one of four in the series. Edizioni E. Elle commissioned the painting for a paperback book cover at the beginning of the 90s and it was also licensed as a boardgame to Target Games in Sweden and Denmark and Norway.

From Science Fiction to Fantasy, quite a jump, but interesting in that Science Fiction is all about what doesn't exist yet and Fantasy is about which can be whimsical but exist - including dragons
.

We all have our dragons, don't we? And Ant helmets? And (im)possible clothing and mean machines with laser weapons on them to help us get thru traffic (unreasonably!) and, well, if you don't, you can get the next best thing, a copy of our the HEROES & VILLAINS book and indulge in a visual treat, a whole host of Peter's role play art!


Deborah Susan
J
ones