The Incompleat Enchanter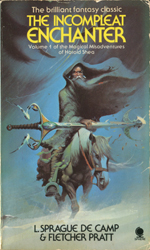 (From the book "Heroes & Villains Volume 2")


By : Deborah Susan Jones : Editor & Contributing writer





An omnibus of Harold Shea's Magical Misadventures.

Originally published in "Unknown" Magazine (also known as Unknown Worlds) an American pulp fantasy fiction magazine, published from 1939 to 1943 by Street & Smith, and edited by John W. Campbell, appearing in the May and August issues in 1940 & April 1941 the three classic fantasy stories by L. Sprague de Camp and Fletcher Pratt also appeared as a Science Fiction Book Club hardback published by Doubleday in the USA in 1975 and then reissued in paperback form by Del Rey Books in the USA, in 1976
.

Nearly forty years after they were first published ,Peter was called upon to create the cover for a Sphere Books edition in the UK in February 1979 and the picture became such a popular iconic fantasy image it was used by multiple publishers, notably Games Workshop on White Dwarf Magazine and on paperbacks in Italy, Poland, the Czech Republic, in Germany as a board game, on role play gaming cards by Merlin Publishing and of course, in the Solar Wind anthology published by Dragon's World and now in the
Heroes & Villains Volume 2
anthology we publish.

Odd though it may seem, we actually had the painting wrongly titled in our archive database and referred to it by the wrong title for nearly thirty five years
. Even though Peter created covers for all three books in the series, The Incompleat Enchanter, A Castle of Iron and The Enchanter Completed, in the hectic overheated paperback book market of the late1970s and subsequent accompanying frenetic studio activity we somehow managed to simplify the title in our minds and it stuck!


It was further concretised as the wrong title when Peter painted a companion piece for himself which he titled The Complete Enchantress"
. . . . . . . .

Deborah Susan
J
ones