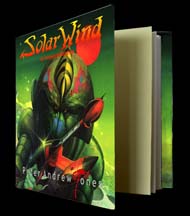 Hawksbill Station


(From the book "Solar Wind Vol.1"
)

By : Deborah Susan Jones : Editor



Painted in 1977 for the cover of the 1978 release of a Futura Publications
science fiction
paperback edition in the UK
titled
"The best of Robert Silverberg" it included
a story titled
"Hawksbill Station", the
one chosen by the artist to respond to.

Whilst a novel length version, expanded from the short story first published in Galaxy Science Fiction in 1967 and then published in 1968, the shorter version also appeared in the Futura collection
and seemed to the artist to present the opportunity to create a classic image of that era, that of futuristic but ominous architecture and the content of the storyline, that of a penal colony in the pre-Cambrian era created by an authoritarian United States government, using time travel as a means to exile rebels and political dissidents into the past, offered the perfect jump-off point for the artist's imagination.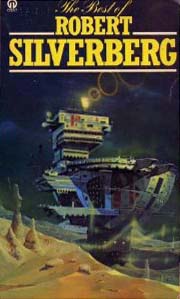 At that time, the late 1970s, a typical way to render things like technology and mist on planets and gas in space was with an airbrush and certainly Peter deployed that tool many times. But in this case, as was his ongoing focus at the time and over all the years he painted book covers, and still to this day, he experimented with producing the effects simply with a standard paintbrush, using glazes of oil paint, applied again, and again, and again, until the effect needed was built up.


Another technical experiment carried out in the picture was to use a paint called Plaka, which is a casein tempera, a paint derived from milk casein; fast-drying, water-soluble and which can be applied thinly and repetitively to give a very flat appearance, which is how the slab-sided presentation of the foreground sand dunes was achieved and made distinct from the gaseous effects on the planet, the reflections and energy beams emitted from the building's transmitter mast, and the clouds in the sky.


To achieve the effect of the rocky, pebbly area of landscape in the distance, and make it distinct from the flat-sided foreground dunes, an early form of his "Acryoil" technique was used, whereby interleaved layers of oil and acrylic are laid one on top of another to achieve, in this case, a crumbly, rough appearance.

As you can see, it was a time of great technical experimentation, carried out at his basement studio in the lower Putney end of London's Fulham Road which is where he was based in the late 70s.


All this innovation and experimentation, while sticking religiously to the code of "the deadine is sacrosanct".


Imagine, if it had all gone wrong . . . . . .


"You're only as good as your last job" (but one, maybe).

Read more in the book here!

Deborah Susan
J
ones