SOLD

Regular
Shipping is

Currency converter

Join our Newsletter

"Deep Space"

(From the book "Solar Wind" Volume 1)

By : Deborah Susan Jones : Editor



Original art created for the 1977 Corgi paperback book "Deep Space", a highly readable anthology assembled by author Robert Silverberg, summing up the mood of eight stories by SF masters A.E. van Vogt, Damon Knight, Harlan Ellison, Jack Vance & others, 8 short stories. set, as the title suggests, in space, including tales of colonisation of different planets, intergalactic travel, and explorations of alien consciousness. A must for all lovers of '50s-70's science-fiction. Painted in Oil and Acrylic on wood panel.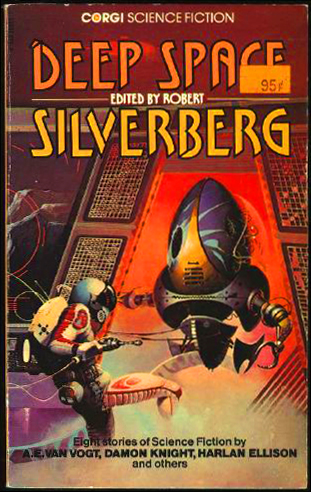 "Blood's A Rover" (Chad Oliver), "Noise" (Jack Vance), "Life Hutch" (Harlan Ellison), "Ticket To Anywhere" (Damon Knight), "The Sixth Palace" (Robert Silverberg), "Lulungomeena" (Gordon R. Dickson), "The Dance Of The Changer And The Three" (Terry Carr), and "Far Centaurus" (A.E. van Vogt) are some of the wonderful stories that were written in the 40s, 50s and 60s that avoid being "old fashioned" and retain all that is best about the visions of the hard SF from those eras.


Deep Space and definitely deeply satisfying to the Artist.

One of the most commercially successful images that went on to form the backbone of THE SOLAR WIND PICTURE LIBRARY, it just sold, and sold, and sold and sold with clients lapping it up as fast as they could acquire reproduction rights in it.


Very satisfying commercially, but much more important to the Artist was the fact that "I just went with my gut, as I did with so many of these 70's works, not stopping to debate whether it was "the right concept" or not. Naturally, it is a nice buzz when one's creative idea "comes out of thin air" and is a distillation of contemporary creative thought and connects with people far and wide. Obviously, it makes the creative process a wider and bigger experience to see an image attain a dynamic all of its own, it gained a life of its own, and went far beyond whatever the initial intention and process of creating it was on the day."


Technically, it was a challenge . . . . . . . .


Peter says - "Back in the day", back in my 20s, I was always experimenting with just about any paint I could find, even though I was trained traditionally as an oil painter, and this image was largely painted in an early incarnation of a certain company's Alkyd paint, which was a bit like painting with glue. Nasty to paint with in a traditional way, and very difficult to use, it ironically worked well when thinned down with white spirit to a watercolour consistency and proved excellent for rendering technology and machinery.


"I even airbrushed it in places (and coughed for a week afterwards!).


"Very organic, and definitely not digital!"



Deborah Susan
J
ones


Editor