The ultimate collector's luxury editions contain original archive drawings in either graphite or metalpoint taken from the artist's personal archives. Sewn into the book and artist-signatured they are the ultimate in quality collectible books.

£ ASK

Regular Shipping is

Currency converter

Join our Newsletter
The ultimate collector's luxury editions. Limited edition, giclee printed, handmade, paint encrusted hardback cover, wraparound dust jacket, original archive drawing in the title page, presentation box, artist signed.




The Texts of Festival

(From the book "Solar Wind volume 2")

By : Deborah Susan Jones : Editor


Mick Farren's stunning first novel, set in a post apocalyptic world, in some ways a portent of much of today's issues, where breakdown in society leaves towns, even cities, falling into decay or receding into feelings of blinkered security as life struggles on in the central core. In many ways, the underground press, in which Mick was a leading player, foretold so much about today's world.

Published in 1975 by Panther Books in the UK with a cover created by the artist, this commission to provide cover art eventually led to covers of the Jeb Stuart Ho trilogy, the Quest of the DNA Cowboys (1976), Synaptic Manhunt (1976) and Neural Atrocity (1977) and all were a thrill to illustrate referencing as they do the counter-culture scene of the time, rock &roll and the whole 60s into 70s alternative culture explosion that the artist found himself centered in the middle of both culturally and geographically being based in London and growing up in the period.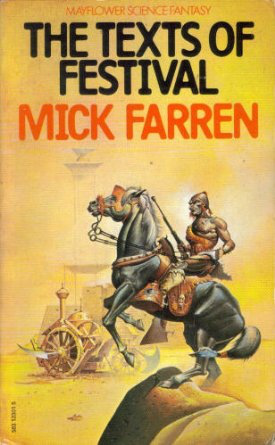 In a modern version of the fall of Rome the bleak scene of Britain has eroded into a de-civilised place, decadent, and the people cower in the city of Festival. The words of the old ones have been largely forgotten,
Morrizen,
Dhillon, and Djeggar, stored on black discs that house the music and prophesies of these Gods while outside the city barbaric tribes are massing and hell,
drug-driven satanic horse riders
bent on rape, pillage and slaughter, is about to break loose.

"By the time depicted in the story I imagined that creatures such as horses would have been biogenetically altered so that they seemed almost metal, robot-like and I imagined that the massing tribal warriors might have adopted clothing looted from museum collections of Wild West clothing and horse trappings and that their skin would be oily-slick and unwashed from living a wild existence.


"Untypically, and because it was a time of huge experimentation for me, I chose to paint this piece on canvas textured illustration board, bought from a now long defunct art shop in Shaftsbury Avenue in London called Wheatsheaf. It was a lovely surface to paint on, tough and lightly textured yet being a board without the hassle of stretching on a frame as with traditional roll canvas, and the experience was an entirely new one to me who'd been used to painting on stretched paper up to that point in time.


"The steam-driven tank-like machine with the bladed heavy wheels came from the blended ideas of a collapsed civilisation maybe having to fall back to relying on steam driven vehicles, to scythes on the wheel hubs as in the Ben Hur movie I'd seen when I was younger and the marriage of 1st World war tank technology with the kind of steam mechanism seen on early motor vehicles. I had a lot of fun dreaming that contraption up!


"The background colour was chosen to give the idea of the world being a hotter place in the future as the Earth would be in a nearer orbit to the sun than currently and envisaged global warming from that viewpoint rather than any idea of it being caused by human actions.


"The book, and the opportunity to create cover art for it, was a fabulous introduction to Mick's work and his later DNA Cowboys trilogy which I had the great pleasure of covering and he was a very interesting person to talk to about visual concepts and certainly a "design meeting" (I'm not sure if it had that grand a title back then) between myself, Mick and Panther Book's Art Director Steve Abis, was a interesting event to say the least, oscillating between discussion about cover art proposals and the last Rolling Stones album and gig, primarily because we were both Rolling Stones fans and their drummer Charlie Watts was a good friend of Steve's and Mich was of course a Rock music journalist and performer as well, so all in all, it made for an interesting Friday night meeting and the promise of a subsequents date for a "decent curry" courtesy of Panther's budget for being prepared to turn out on a Friday night when I might have otherwise been engaged and eventually we ended up at Steve's favourite, and fabulous, Indian Restaurant in Tottenham Court Road.


"The main thing I recall from the meeting though, was not discussion about book cover design, but me sitting on a chair in a corner with Mick's stuffed Ant Eater, mounted on a plinth, as an arm rest.
"


Sadly, Mick died after collapsing on stage in July 2013 during a reunion of his Deviants rock band while performing at the London live-music venue The Borderline.


Equally sadly, Steve Abis, the incredibly talented art director at Panther Books, who taught Peter so much, died far too young, and though never gets a mention as a virtual unknown outside of the paperback industry of the 1970s, was undoubtedly one of the main contributors to the 1970s revolution in Science Fiction book cover design, particularly from the perspectives of his brilliant cover typography and his choice of cover artists and, not least of all, his guidance of a very young up and coming artist, Peter Andrew Jones . . . . . . (r.i.p)

Deborah Susan
J
ones