Stranglers Moon


(From the book "Solar Wind")



Artist interview : by Deborah Susan
J
ones : Editor


"Can I say I was, as a young illustrator, asked to create this, I was "gobsmacked"?


"I mean, as a rookie artist, just starting out, fresh from art school, not much idea about anything really, to be asked to cover an E.E. "Doc" Smith classic ? ! ?


"Did I say "yes" or did I say "YES"?


"I said "YES ! ! ! !"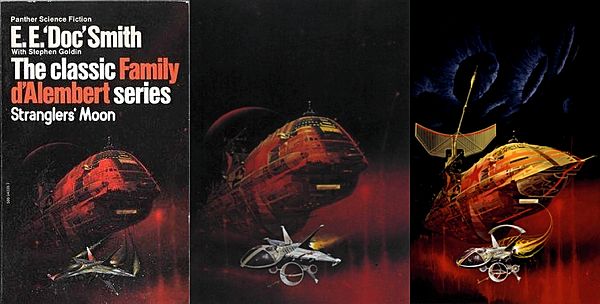 And . . . I was pretty obsessive about "how things could, or should, look" so when the painting was returned, and the first version of my "Solar Wind" book came along, I changed the foreground spaceship before it was photographed for the book.


Then, later, when the image was licensed to another publisher, I added the large planetoid in the area that had been otherwise blank behind the book's title type and also for inclusion in my own company's published edition of Solar Wind"..


Always, always, looking to explore, that's me !

Deborah Susan Jones : Editor