Forgotten Islands


"When we had just moved to Church Stretton in Shropshire to set up the new studio Peter by chance overheard a conversation in a Church Stretton Tea Room between the proprietor and a visiting geologist and was puzzled to hear the Stretton Hills referred to by the proprietor as "The Islands" and further research uncovered the roots of this puzzling mystery."


By : Deborah Susan
J
ones : Editor


The famous iconic Shropshire Hills, The Wrekin, The Lawley and Caer Caradoc in Church Stretton were formed in the Pre-Cambrian Uriconium era from the Church Stretton Fault over an immense period of prehistoric time.


Tens of millions of years passed and extensive sedimentation and there is evidence to show that the area spent periods both above and below sea level and the Longmynd is formed by fine desert Sandstones, fine gravel shales and coarse conglomerates.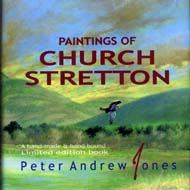 In short, Church Stretton is situated on an ancient sea bed!


Peter Andrew Jones Paintings of Church Stretton BookThere are several paintings of Peter's that feature Caer Caradoc, one appearing on the cover of the book "PAINTINGS OF CHURCH STRETTON" and another appearing in the book "PAINTINGS OF SOUTH SHROPSHIRE" which appears at the head of this page.


These immensely popular pocket-sized books contain some of the most iconic of Peter's paintings portraying the Church Stretton area and are collector's treasures.


Ever-popular with hill walkers, both amateur and committed and visitors from urban areas, the area of course, with the ever-changing seasons and weather that changes almost day to day, make the creative challenge of reacting to this amazing landscape and portraying it a subject impossible to exhaust.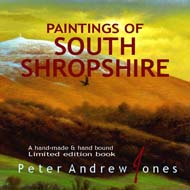 Running alongside the town of Church Stretton and the village of All Stretton looking along the Church Stretton gap also affords a view northerly of The Wrekin and more easterly, Wenlock Edge. Turn around 180 degrees and you can see The Longmynd.


A British Iron Age or late Bronze Age hill fort sits on the summit of Caer Caradoc which is Welsh and pronounced "Caradoc" and legend has it that this was the site of the last stand of British King Caractacus against the mighty Legions of Rome during their reign in Britain, and that after the battle he was carried off to Rome to be executed but that the Romans were so impressed with his spirit that he was returned to Britain as a Roman consul. But then, there are SO many stories . . . . .


It is also legend that says that Merlin, after the fall of Arthur on the Field of Camlan, retired to a cave on Caer Caradoc and that he is still there, walled up inside, and that you can still hear him wailing . . . . . . . . but again, there are so many Myths and Legends that abound in the area.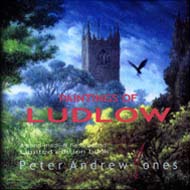 The painting is one of a number of the famous Shropshire Hills, in an area described as "an area of outstanding natural beauty" and they get perhaps more publicity than some other hills in the area and yet those too are of interest, especially to an Artist, and Clee Hill on the outskirts of Ludlow is perhaps bleaker in appearance but has much to inspire an artist, especially its wildlife and it features in another book of Peter's "PAINTINGS OF LUDLOW" and all these paintings of Shropshire and the Shropshire hills form part of an extensive body of work inspired by the contrast that a rural area provides the Artist compared with an urban environment that the Artist lived in before moving to the countryside. The variety of colours, textures, shapes and even sounds that the two environments offer, a constant reminder, that "there is much to paint".


Peter Andrew Jones Paintings of The Stiperstones Book Whilst undeniably the countryside of Shropshire is "pretty" and "beautiful" in parts, other places have an entirely different kind of beauty, raw, passionate, bleak, stormy, dark and brooding, inhospitable, so many descriptions one could make and yet, for all that, incontrovertibly places that draw visitors. And Artists. Because they are just SO special and certainly offering up scenes that stir the Artist to not only paint, but publish both luxury handmade books, luxury multimedia editions that are certainly the most commercially successful in the area and greetings cards that offer a full range of visual reportage and chronicle those special little corners and places not usually portrayed on other mass market cards.


Truly unique Art.



By : Deborah Susan
J
ones : Editor